It's the first day of Spring tomorrow and you are probably thinking about getting things planned for the beautiful weather coming, possibly a short break away or an adventurous day out, like us. Often we stumble thinking about where to go because there are a lot of choices.
In this blog, we focus on mobility-friendly trails that everyone can enjoy.

Accessibility
Accessibility is a concern for lots of people, not just those with different mobility needs, but for people who care for them too. If you're a wheelchair or mobility scooter user then inclines, surfaces and doorways amongst many other things are likely to be on your list to look out for when planning a day out or a holiday.
Thanks to the National Trust they have a number of family-friendly and differently-abled friendly walks to take. They cover some of the most beautiful parts of the UK. Enjoy the fresh air while experiencing the sights, sounds and smells of nature with friends and family.
Killerton Park & Gardens in Devon is fully wheelchair accessible and is an ideal day out if you're staying in or around Devon.
Baggy Point, also in Devon is an easy walk, providing coastal views which stretch for miles. Look out for a variety of birds and you may even see seals! This route follows a well-surfaced and fairly flat path which is suitable for all-terrain mobility scooters and wheelchairs.
Salcombe Hill in beautiful Dorset takes you towards the clifftop, where you can admire stunning views out across the seat.
In Cornwall, there's a circular trail that takes in views of Porth Creek and Froe. The delightful walk weaves through woodland and bordering farmland and meadows.
Blicking Estate, Norfolk is where you will find a flat multi-use trail, taking you through woodland and across farmland.
The blue trail, Cliveden, Berkshire is a family-friendly route which is largely level with occasional gentle slopes. It follows grass and stone-studded footpaths through the woodland of the estate.
Giant's Causeway green trail, County Antrim is an accessible clifftop trail boasting incredible views of the Giant's Causeway. You might even spot dolphins and porpoises swimming in the bay.
Off The Beaten Track
Want to enjoy your day more, witness the world in a whole new way and not just from the pavement?! At Direct Mobility, we have many off-road products that are great to hire for your trip away.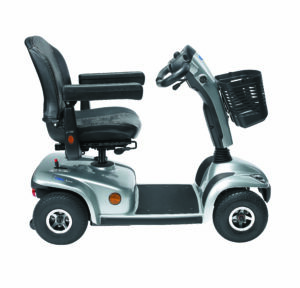 If you would like more info on our mobility scooter or wheelchair hire, contact us today. Our friendly team are waiting to answer any questions.