Are you planning a holiday abroad soon and wondering if you are able to take your mobility scooter with you? We have put together a handy guide below that covers a few key points of information and tips to consider.
Please note this guide is for information only and is not intended to describe the product/service available from Direct Mobility – our products are not available to take abroad at this time.
Travelling by Plane
Planning a holiday abroad and you are travelling by plane? Contact the airline straight away and make sure they do accept mobility scooters on board. Contact the airline prior to check-in to provide them with the details of your mobility scooter to ensure it can be safely stored, hassle and stress-free.
We recommend you fully charge the battery on your scooter if you are going to use it at the airport. A full charge is essential and just in case you have any unexpected waits and delays. There may be charging ports around the airport to top up the charge.
If you decide to leave your mobility scooter at home, there are many destinations that offer rental services once you arrive. Planning it this way can be a less stressful task and still allows you to get about while abroad without having to make further enquiries about whether the airline can carry a scooter.

Airport Info
You have booked your holiday and decided that you are taking your mobility scooter abroad. You have called the relevant people and are ready to leave for the airport. Once you are there you will be met by airline staff upon check-in to take the scooter to the plane.
To get around the airport you will be provided with a standard wheelchair, allowing you to move through the security checkpoints at ease and assisted to your seat on the plane.
Tip – We believe it's a good idea to clarify all of this with the airline when planning your trip so you know exactly what to expect.

Travelling by Ship
Nowadays the majority of ferries are equipped for mobility scooters but it is a good idea to contact the carrier directly before to ensure you will not have any problems when it's time to board.
There may be staff on hand to assist you, but you may prefer to travel with a friend or family member.

Insurance
The law states that mobility scooter insurance is not a legal requirement in the UK, but it is highly recommended to cover you against unexpected incidents such as damage to a third party's property, an accident involving you or another person, or if your scooter is vandalised or even stolen.
Most insurance policies do include overseas travel but check the details carefully before you go away just in case you need to take out a different policy.
Transport
Booking your transport from the airport to your accommodation is vital, making sure you can fit your scooter in. Alternatively, if you are looking to use public transport, we advise you to check beforehand – but bare in mind that this way of transport could be more time-consuming, especially when juggling your luggage as well as your scooter.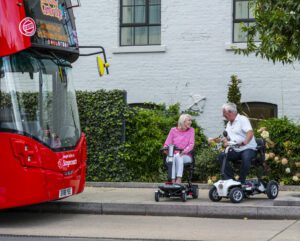 Continued Reading…